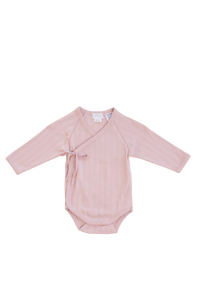 Jamie Kay Wrap Pointelle Bodysuit - Cupcake
Regular price
Sale price
$34.99
Tax included.
Shipping
calculated at checkout.
---
Madeline Lane Collection - Soft Pink Pointelle Wrap Bodysuit
100% Organic Cotton: Knitted

Jamie Kay organic cotton is crafted from the softest, most beautiful fibres in the world. This range is designed to keep your little one snug while allowing their skin to breathe.
Jamie Kay was born in 2013 out of founder Jamie's longing to find a gorgeous cot blanket for her second son. A year later, those blankets were gracing the beautifully styled rooms of Jamie Kay customers from all over the world.

From cot blankets, to stonewashed linen made from french flax to the purest organic cotton baby clothing and merino wool, each Jamie Kay piece is designed from their studio in New Zealand and carefully considered to ensure their designs are not just exquisite but the quality is outstanding and perfect for your little ones.
Their garments are crafted with the loving hands of their team in India & China during their ethical production process ensuring all organic cotton is GOTS certified. Jamie Kay garments are coloured with Oeko certified dyes and arrive to your door safe & ready to be loved.
All items are true to size based on an average sized child. Guide is only an estimate provided by Jamie Kay.
Please note as these garments are all hand cut please allow a garment tolerance of 1/1.5cm for your measurements.
Chest : 6-12m 26.5cm, 1y 28cm, 2y 29.5cm, 3y 31cm, 4y 32.5cm, 5y 34cm, 6y 35.5cm
Total Length : 6-12m 45cm, 1y 47cm, 2y 50cm, 3y 53cm, 4y 57cm, 5y 61cm, 6y 65cm
For the most accurate garment colour please refer to the flat web image on a desktop computer.
Delicate wash in a laundry bag.

 

WASH INSTRUCTIONS:

While Jamie Kay organic cotton is incredibly durable, to prolong the life of our garments we recommend a gentle machine wash and line dry in the shade - there is nothing like air dried organic cotton!

Do to the natural nature of our buttons and trims on majority of our garments please do not leave your garments damp and folded ontop of itself.

This can cause colour to run from natural wooden buttons. Please lay flat to dry and do not leave damp within your washing machine etc.